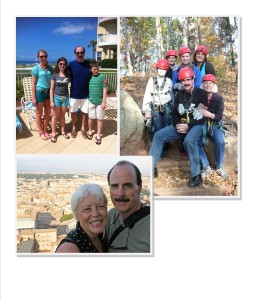 People. That's really what makes (or breaks) an organization, isn't it? Who wants to work with someone they don't like? Not me! So what kind of people are you working with when you work with Century Fire Protection? To answer that, we'll be posting a series of blogs over the next few months that profile our team so you can get to know us.
We're starting with one of my friends and a "silverback" in our industry, Ed Cone. Among other things Ed is an Air Force Vet, a former Insurance Underwriter and Camp Counselor, a World Traveler, a Photographer, a Mentor and a Special Hazards Fire Protection expert.
A new challenge each day
I've learned a thing or two from Ed over the last 12 years. Hardly anyone in the industry brings as much knowledge of special hazards fire protection to the table. Even though Ed has been in the business since '76, he says he is still presented with a new challenge each day and he still enjoys what he does. I guess that's why he keeps working past the age of retirement!
Embracing technology
Ed remembers using paper, pencil and calculator to come up with all the flow calculations and modeling data that we get from a simple mouse click today. I often call him "Mr. Gadget" because he is always ready (and waiting impatiently) for the newest technology release. Ed has rolled with the punches over the years adapting to the changes… learning to work with the younger generations joining the workforce, embracing new technology and demonstrating an open mind.
More than fire protection
I mentioned earlier that Ed was a camp counselor. He remembers one camper especially well, Dwayne Garris who is known today as the Georgia State Fire Marshal. As a counselor Ed says he had to sleep with one eye open so he wouldn't fall prey to a shaving cream makeover from Mr. Garris and the other campers! Nowadays, when Ed isn't working, he spends his days with his family (zip lining?) or traveling the world and photographing the wonders he encounters. He also enjoys mentoring younger generations; from his grandkids who call him "Huna" (AKA a The Grand Kahuna) to the kids at Riverstone Church in Kennesaw, GA.
As you can see, there is much more to Ed than Fire Protection. When you work with Ed, you'll like him and you'll LOVE the fact that he'll give you honest advice based on 39 years of experience in the industry. What do you like or dislike about your fire protection contractor? Maybe you should call Ed? (Shameless plug!)
This post is contributed by Tiffany Konenkamp and Roselyn Argueta in the Service & Inspection Division at Century Fire Protection.